Meet Yong Eon Park, DDS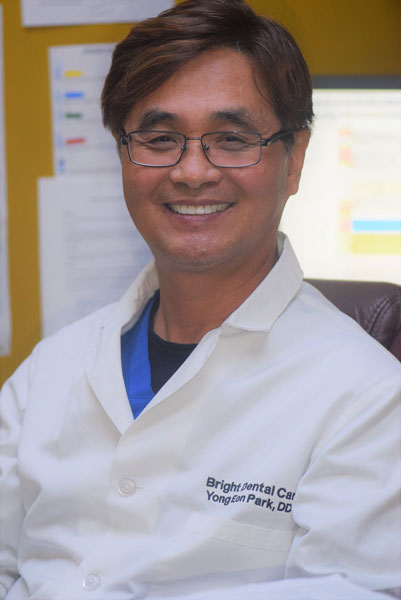 Dr. Yong Eon Park received a bachelor's degree in English Literature from the Dong-A University in Pusan, Korea, in 1988 before studying dentistry. In 2002, he graduated from the Manila Central University in Manila, Philippines, with his D.D.S. degree. Dr. Park continues to improve his education and dental skills every year and has taken residency courses in advanced fixed prosthodontics, implant and complex prosthodontics, comprehensive aesthetics, and AIC Implant Training.

Dr. Park has worked in the Bakersfield area since 2003 and holds memberships with the American Dental Association (ADA), California Dental Association (CDA), and Kern County Dental Society (KCDS). He has been married to his wife, Jane, for over 20 years. They have two sons, Kiefer, who has graduated from dental school, and Robert, who is now in high school. In his spare time, Dr. Park loves spending time with his family and friends, longboarding, reading, working with the Korean Association, and listening to music.

Dr. Park strives to educate, help, and encourage the patients who visit his practice. He has a passion for practicing conservative, cohesive, and compassionate dentistry and wants to take the time to provide excellent dental care for his patients. The door to his office has the words: Help Patient, Help Practice, Have Fun. Dr. Park follows his goals by calming nervous patients, educating them, and providing the best treatment possible.